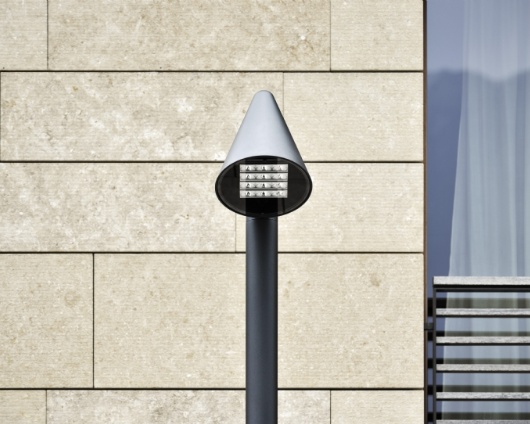 UN luminaire
UN focuses on the transition between the mast and the lamp head. The shapes and proportions of the components are merged together. The lamp head evolves from the cylindrical cross-section of the mast. The silhouette of the lamp head appears to be more voluminous in the side view than it does in the front view: The lamp appears to be discreet and reserved in the front view. This ensures that the visual appearance of facades is impaired as little as possible. In the side view and alignment of the defined space of the street, the lamp head has a larger appearance, which ensures the necessary level of presence and visibility.

The basic shape of the lamp head indicates the direction of light. A crown line runs in a slight upward gradient and away from the mast. It creates a formal mediation between the mast and the head of the lamp. From this crest line, the various surfaces flow downwards in an open angle. They meet at the lower end of the housing in an oval contour, which delineates the lens aperture area and is closed with a clear glass cover. The light point height of the lamp can vary in accordance with the operational area, as well as the technical and atmospheric conditions.

Please find more information here.