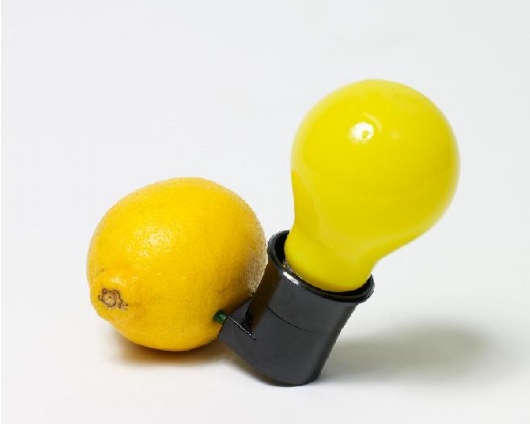 EWO EXHIBITS LIGHTING WORKS FROM SOUTH TYROLEAN COLLECTIONS
During the International Year of Light 2015, ewo exhibits lighting works from important South Tyrolean collections in the foyer of its company headquarters in Kurtatsch. Museion kicked off the series, with works by Maurizio Nannucci, Claudio Olivotto and Stephen Antonakos. Collector Heinrich Gasser will present from May until September "Capri-Batterie" (Capri Battery), a multiple created by Joseph Beuys in 1985, and ); in autumn a work by Carith Wyn Evan will be on dislplay.

A lemon that illuminates a light bulb?

The intimate, high-quality exhibition in ewo's foyer, sourced from the collection of Heinrich Gasser, centers around a work by Joseph Beuys entitled, Capri Batterie. Beuys continually sought change, and it should start with the individual and extend into society. The multiple, which was created in 1985, consists of a wooden box, a light bulb and a jack. A lemon is stuck into this version, and the manual indicates: "Change battery after 1000 hours." The suggestion is that a lemon can keep a light bulb continuously illuminated. Joseph Beuys, who strove vehemently not only as an artist but also as a human being for balance between nature and technology, wanted to demonstrate through this work that all forms of energy are obtained from nature. But since natural resources are limited, they must be handled with the greatest of care. We are very pleased to be able to exhibit this work of art. For more than 20 years, ewo has been working with the theme of light. Through its groundbreaking, sustainability-friendly technology, ewo makes an important contribution to the conservation of resources. Three other works by Joseph Beuys round out the exhibition.

Opening and aperitif: 7:00 p.m. on 15 May 2015 at ewo headquarters in Kurtatsch.