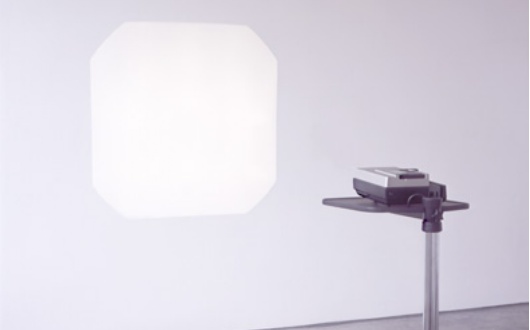 EWO HOSTS LIGHTING WORKS FROM SOUTH TYROLEAN COLLECTIONS
During the International Year of Light, ewo is displaying lighting works from important public and private South Tyrolean collections in the foyer of its company headquarters in Kurtatsch.

In our third exhibition we are showing two installations from Museion's collection – by Ceal Floyer and by Piero Fogliati – and a multiple by Maurizio Nannucci. All three address the theme of perception in vastly different ways. In her artwork, the Berlin-based conceptual artist Ceal Floyer (1968) questions the usual patterns of perception. She works mostly with simple tools and subtle irony; everyday things and objects take center stage. A light projection can be seen, which is generated through an empty, focussing, Leica-brand slide projector.

In Piero Fogliati's work Cromoriflessione a projector throws a beam of light onto a rotating metal disk and, at the same time, onto the wall. Through the rotation of the disk, a colored ball of light is formed on the wall. There is a book about the artist, who was born in the 1930s, called The Poet of Light. Fogliati's works are groundbreaking for many young conceptual artists.

Maurizio Nannucci's light installations, with text in neon lights, rank among the world's most prominent examples of conceptual art. His multiple Look focuses on the relationship between language and vision and, through the use of blue neon, also the relationship between words and color.


Opening and aperitif: 30 September 2015, 7:00 p.m., ewo, Kurtatsch, Etschweg 15


We look forward to seeing you there!