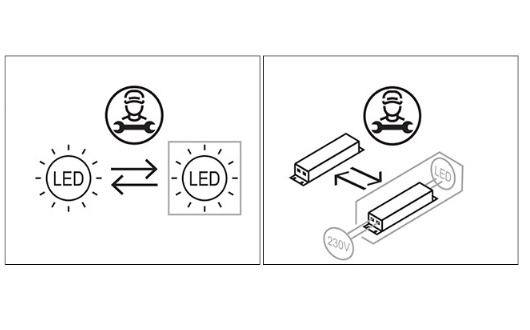 ECODESIGN EU REGULATIONS 2019/2020
All ewo products comply with the requirements of the EU regulations EU 2019/2020 and EU 2019/2015 and their annexes.

As stated in Annex V of EU Regulation 2019/2015 at:

Point 1
all information regarding LS contained in the CP is uploaded and available on the EPREL database

Point 2
all information regarding the packaging material is available on request at info@ewo.com and will be available in plain text as of 1 March 2022, as indicated in regulation EU20201/340

point 3
letters a - c -d and all information and values are available on instruction documents and datasheets

letter b
All ewo products are equipped with a LED light source (LS) that can only be replaced by authorised professionals. The symbol can also be found on all product packaging.

ewo products have a Control Gear (CG) that can only be replaced by authorised professional personnel, with the exception of the series named: ID - IDplus - P–Series - R–Series. The remote driver symbol is also shown on all product packaging.