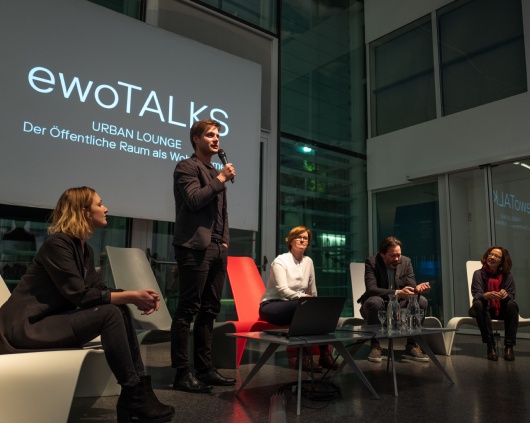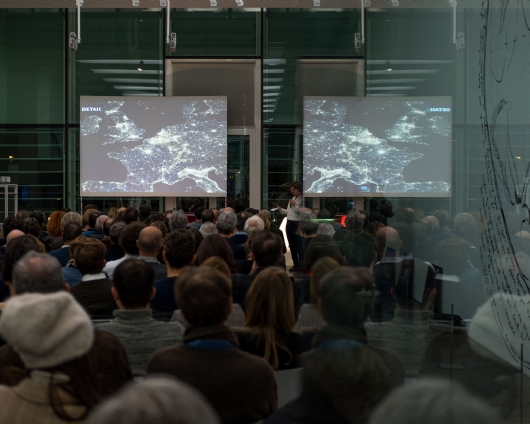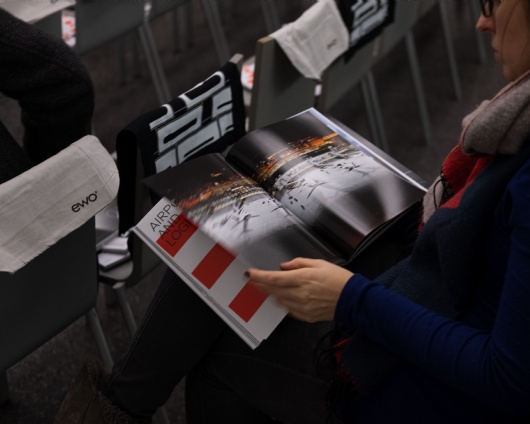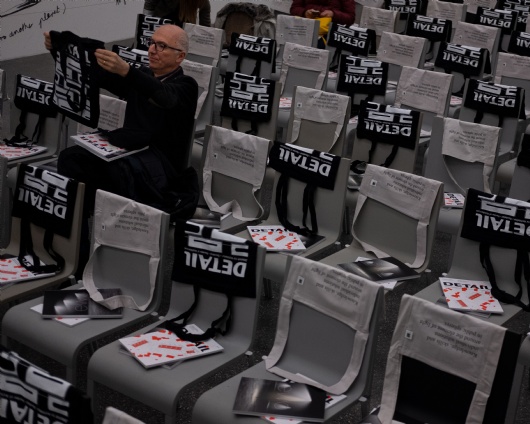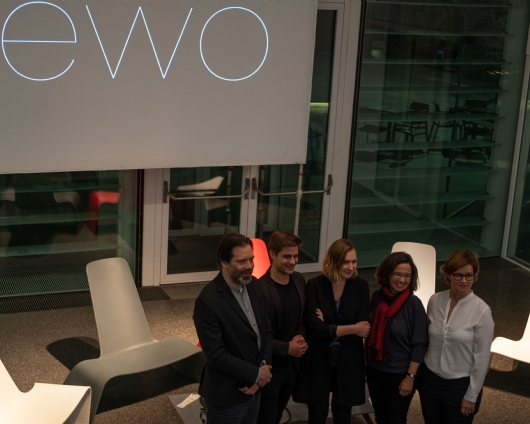 ewoTALK #5

Topic and theme
URBAN LOUNGE
Public space as an extension of the home.

See the video of this event on youtube.

The era of increased individualism created a longing for an increased sense of "community". As a valuable part of our heritage, public spaces can forge new relationships, creating meeting places that are an essential part of our social construct. They have the potential to enliven and unite fragmented communities.

At night, light dictates atmosphere and influences the quality of outdoor living. Light offers reason to go outside at night, to get together, to feel safe and comfortable.

Light fulfils a social need, improving the ambience and quality of public places at night; a modern campfire of infrastructure and technology. Light is there for everyone – not just a single individual – enhancing collective potential.

In Italy in particular, the importance of common outdoor space endures to this day and we look forward to discussing all of this with architects, urban planners and sociologists, at this year's ewoTALK.

Moderation: Sandra Hofmeister, architectural author and editor-in-chief of DETAIL

Speakers:
Elina Kränzle, Urban Studies Researcher, TU Vienna
Patrick Lüth, architect and CEO Snøhetta Studio Innsbruck
Anna Rose, Urban Planner, Architect and CEO Space Syntax UK
Hannes Wohlgemuth, CEO ewo

Greetings: Roland Baldi, Vice President of the Architecture Foundation South Tyrol.



Thursday, 05.12.2019
Start: 18:30
Lectures + Discussion + Drinks

Location: Museion, Bolzano in cooperation with the Architekturstiftung Südtirol - incl. credits for architects Language: German

Sandra Hofmeister
Architectural author and editor-in-chief of DETAIL

Dr. Sandra Hofmeister is an author and editor. She studied architecture, art history and Romance languages and literature at Freien Universität Berlin Technical Department, as well as at Ludwig-Maximilians-Universität Munich, where she also earned her doctorate. As editor and author, she has published numerous books in German and English on contemporary architecture. Recent titles include "Schedlberg. Peter Haimerl, beierle.goerlich" (Edition Detail 2019), "My Bauhaus / Mein Bauhaus" (Edition Detail 2018) and "Our Bauhaus Heritage / Unser Bauhaus Erbe", Edition Detail 2019). Her journalistic works have appeared in German and English newspapers and magazines as well as online platforms. Sandra Hofmeister accompanied the launch of German Domus and was editor-in-chief of the magazine until 2015. She has been editor-in-chief of Detail since 2016 and, in addition to the book programme, also heads the magazine and online editorial staff. She currently also teaches at the University of Applied Arts in Vienna.

Elina Kränzle
Researcher of Urban Studies, TU Vienna

In her research, Elina Kränzle explores the urban environment and spatial living conditions of the city as an expression of social conditions. She studied urban studies at the Bauhaus University Weimar (2008-2012) and European Urban Studies in Brussels, Vienna, Copenhagen and Madrid (2013-2015). Between 2015-2018 she worked as a university assistant at the Interdisciplinary Centre for Urban Culture and Public Space, TU Vienna, as a freelancer at the Vienna Summer School in Urban Studies at the ÖAW/University of Vienna, and as an assistant to the head of the district work/Caritas Vienna. Since 2018, she has been a Fellow of the Studienstiftung des deutschen Volkes at the Interdisciplinary Centre for Urban Culture and Public Space at the TU Vienna, where she is completing her doctoral thesis on the relationship between nationalism and the urban environment.

Patrick Lüth
Architect and CEO Snøhetta Studio Innsbruck

Patrick Lüth has managed Snøhetta Studio Innsbruck since 2011, and now has 30 employees. In 2005 he started as an intern in the Oslo office. There he worked on many international exhibitions due to his extraordinary design skills and was involved in some of Snøhetta's most spectacular design submissions. In Innsbruck he manages the Swarovski projects "Crystal Worlds Evolution" and The Factory, a cutting-edge building for manufacturing and creative collaboration.

Anna Rose
Urban Planner, Architect and Director, Space Syntax UK

Anna Rose is an architect and urban planner specialising in multi-use urban planning and public space design. Trained in Germany and the UK, she joined Space Syntax in 2002 and became Director in 2007. She is an Honorary Senior Research Fellow with The Bartlett, UCL and a member of the UK Academy of Urbanism. Anna Rose is a regular speaker at industrial and academic events worldwide. Anna Rose leads the company's design and consulting activities in the UK, USA and Continental Europe. She has extensive experience in advising private and public clients on spatially complex urban planning projects, particularly in the design of effective human behaviour patterns. Her expertise lies in the optimisation of urban planning in the interest of pedestrians and cyclists (accessibility, safety and sociability) as well as in the sustainability of local neighbourhoods (retail performance, proximity to foot, density of infrastructure and business potential).

Hannes Wohlgemuth
CEO ewo

Hannes Wohlgemuth took over the management of the South Tyrolean luminaire manufacturer ewo in 2019. As the son of the founders, ewo was with him long before he decided to join the family business in 2012 after completing his architectural studies in Innsbruck, Seville and Graz. Having been raised at ewo, he gained experience in every department and thus acquired a fundamental knowledge of the lighting industry. As sales and marketing director of ewo, he focused on strengthening international influence and global market expansion. Since spring 2017, Hannes has also been Managing Director of connexx, a start-up company that develops hardware and software solutions for smart components. All these activities are driven by creative solutions coupled with innovation.