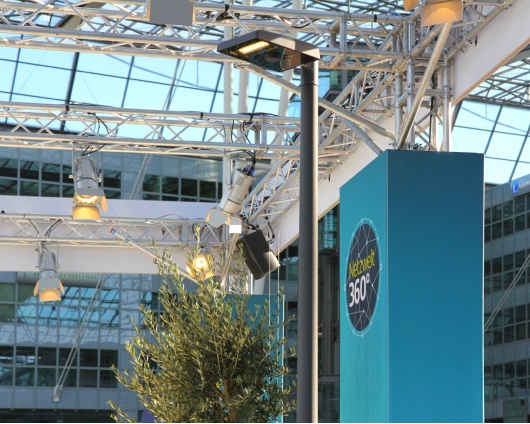 ewo and Connexx work with Telefónica on Smart Luminaire of the future

On 20 and 21 April 2018 at the Innovation & Style Trade Fair at Munich Airport, telecommunications provider Telefónica Germany and technology partner Huawei will present their latest developments on the topics of the Internet of Things & connectivity in addition to presenting landline and mobile phone solutions of the future. Along with Telefónica Germany at this event, ewo and Connexx will present their smart lamps, which communicate via Narrow Band IoT.

So that the physical world doesn't miss out on its connection to the internet and becomes part of the Internet of Things (IoT), the areas of IT and technology must increasingly bring their respective competencies into play. Munich Airport will start a pilot project to develop a Smart City. This will be enabled by the joint efforts of Telefónica Germany with Huawei. Telefónica Germany have taken the extra step to implement this pilot project for Narrow Band IoT (NB-IoT) at the airport area, so that sensor data can be sent to the Huawei IoT platform q-loud in an energy-saving manner.

Because a lighting system plays a central role in a Smart City, Telefónica invited lighting specialist ewo to participate. In collaboration with the start-up Connexx from Bolzano, the experts for wireless solutions, ewo conceived and developed a Smart Lighting Use Case: a smart lamp, which will be presented to the general public for the first time at the Innovation & Style. The Connexx module, which is completely integrated into light fitting, networks the lamp with the mobile phone network and collects data.

Possible future scenarios for use include lighting systems in the Smart City area, which can be cleverly controlled through an intelligent grid to use less power. In so doing, ewo has once again demonstrated its competence in the creation of versatile systems.

This and other additional Show Cases in the IoT field will be presented from 20-21 April 2018 at the Telefónica Germany booth at the Innovation & Style 2018 at the Munich Airport.