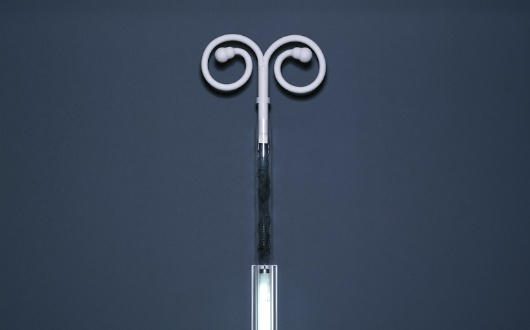 EWO HOSTS LIGHTING WORKS FROM THE MUSEION COLLECTION
Within the framework of its longstanding partnership with the Museion, ewo is yet again displaying lighting works in its foyer from Bolzano's museum of modern art. Over the course of the years, Museion has developed its own unmistakable profile with its collection, with a noteworthy segment of it represented by works using light. These include creations by such artists as Rosemarie Trockel and Cerith Wyn Evans, whose work "onward dark cloud, you…" was exhibited in the autumn of 2015 in the ewo foyer.

In what is now the fourth installment of the series "Light-themed Artworks on Loan at ewo" in the company foyer, three extraordinary light works are on display, presented on the topic of light through the use of their different positions and reflections. Thus in her work "The material networks also constantly gain in an analog network of ideas, a neural net – the modern structure of its metathought image", Brigitte Kowanz employs a double reflection and verbalizes visual processes here through the interplay of light and the medium of language. In her works, Rosemarie Trockel reflects the role of women in art history. And thus so does Spiral Betty, a light installation which, on one hand, ironically quotes the gigantic land artwork of Robert Smithson (Spiral Jetty, 1970) and, on the other hand, contains a clear allusion to the female body.

In contrast, François Morellet does without symbolism and metaphor in his art, with his works explicitly and exclusively referring to themselves. Through the use of neon light, "Un angle de néon sur un tableau sur un trasformateur" extends beyond the image surface into the space and, in so doing, achieves an added dimension. Through compositional refinement, he reflects on the realism of light, geometry, and technology.