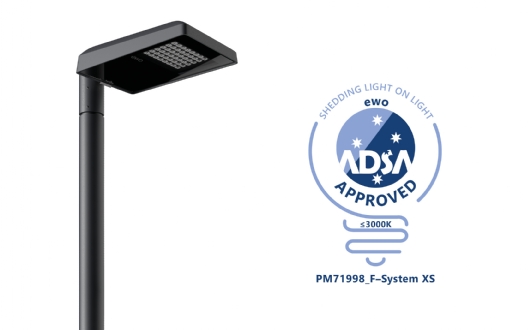 F–System XS: Dark Sky approved!
Our bestseller F–System XS has been Dark Sky approved by the Australian Dark Sky Alliance (ADSA).

We are very delighted about this recognition, because the concept of Dark-Sky lighting and linked to it, the reduction of light pollution, is crucial to ewo's philosophy.

Thus, our luminaires are engineered to avoid artificial light in otherwise dark conditions. Our light distributions are guided precisely to those areas that actually need to be illuminated.

ADSA approved luminaires conform with dark sky principles specific to Australasian standards and guidelines including AS/NZS 4282:2019 and the Australian Federal Draft National Light Pollution Guidelines for Wildlife.

On May 20th, our Sales Director for Asia Pacific, Flavio Bonomi, has been chosen by ADSA to answer your questions in their Webinar "Good lighting Principles" covering the following questions:

What is ADSA approved?
Who would use it and why?
Who is certifying it?

We believe in Dark Sky's importance because we care about our ecosystems and the well-being and health of both humans and wildlife.

So, as ADSA says, bring back the Night Sky!

Read more about ADSA's mission here.