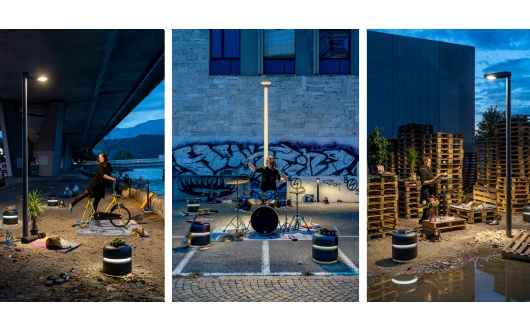 URBAN LOUNGE - empowering wellbeing outdoors

On the potential of urban space - or public space as a living room.

Objects influence our perception of any place and likewise, light has a significant influence on the atmosphere of each location. Light influences how people experience their surroundings. At night, artificial lighting makes public spaces glow. Even more, light brings us together outdoors - like a campfire. This is what makes it possible to feel good in public spaces: empowering wellbeing outdoors.

In a photographic collaboration with artist duo beierle.goerlich, ewo celebrates the transformative power of light objects. Where seemingly no-go urban areas of post-industrial expanse cannot be filled with life by the warm light of day, they resemble a shell that is taken outdoors (OFF).

Only with the creative introduction of objects can it be revitalised. A revitalisation with an atmosphere ready to be enhanced by the warmth of illumination (ON).

In this way, ewo's lighting fixtures strengthen the feel-good character of public places. This creates public living rooms in which we can linger and unwind. Places of isolation are transformed into meeting areas for social networks, strengthening the sense of community in public spaces, as with living rooms.

Photographer Edward Beierle and artist Jutta Görlich have shaped these places of transformation from harsh reality into visible, community-building poetry, without words.