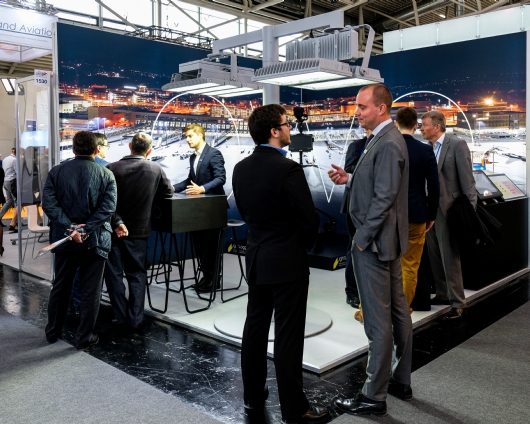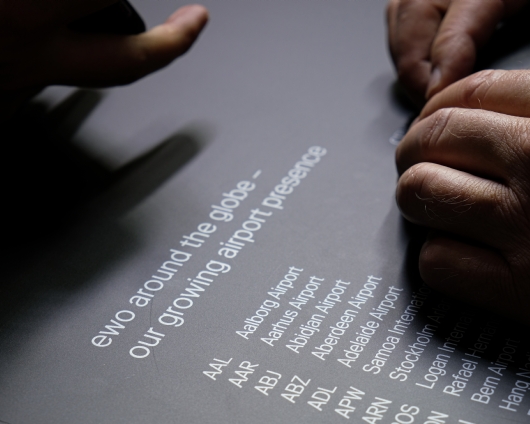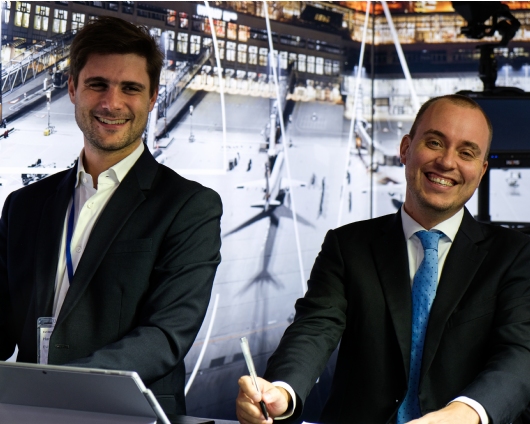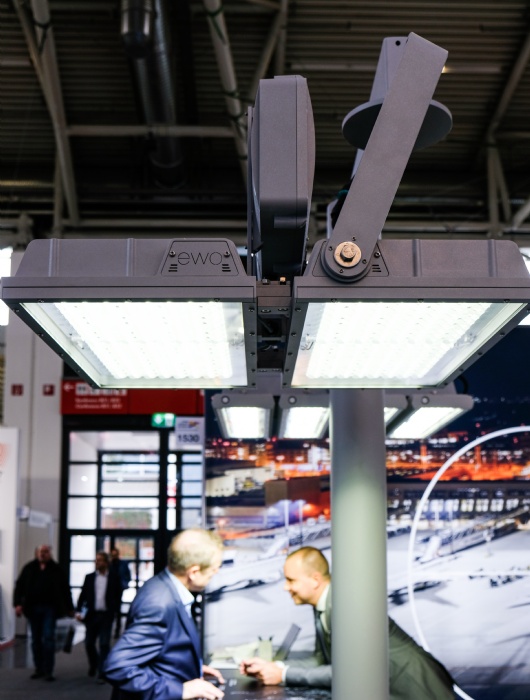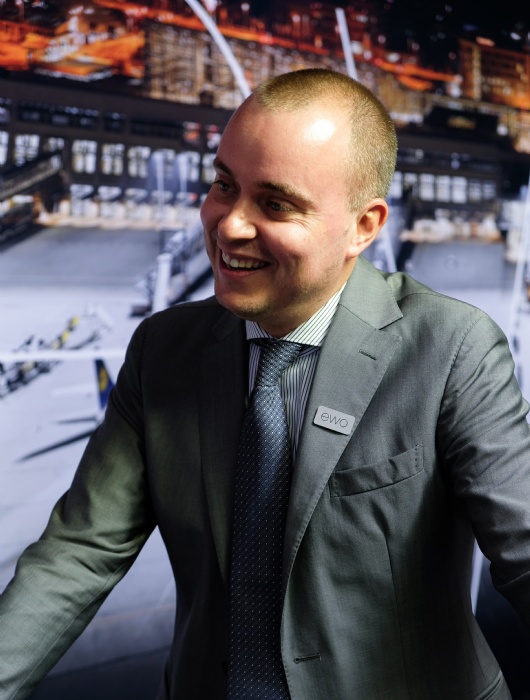 PRODUCT LAUNCHES AT INTER AIRPORT EUROPE
New generations of high power floodlights and a unique light measuring tool

ewo has enjoyed a great start to a busy season of events, with the successful launch of two new floodlights:

1) R-System gen2, a newer and more powerful version of ewo's hugely successful floodlight, capable of delivering up to 148,000 lm, 1,300 W (gen1 delivered up to - 139,350 lm, 1,250 W).

2) R-System gen3 concept, a glimpse into the future of ewo floodlighting with the even more powerful floodlight capable of delivering up to 185,000 lm, 1,545 W.

As another highlight, ewo launched a brand new, unique measurement tool:
LightLogger: A one-of-a-kind, easy-to-use mobile tool for measurement of illuminance lux (lx), engineered for airport aprons, parking spaces, ports and container terminals.

See the LightLogger video here.

The new floodlights and announcements achieved great recognition at inter airport Europe, from contacts old and new across the field of aviation.

Next up for large area lighting:
New Zealand Airports Conference
23-25 October in Aukland
With Energylight
Stand 4

Australian Airports Association National Conference 2019
18-22 November with Avionics
ewo products at the Museum Arte Merano
"Design from the Alps. Tyrol/South Tyrol/Trentino 1920-2020"

Four of our products are currently being shown in a museum exhibition at Kunst Meran/Merano Arte - this shows our contribution to design and art, as well as our ongoing collaborations with up-and-coming and renowned designers. The ewo products exhibited in Merano epitomise ewo's minimalist aesthetic and our modern, durable design language.

A long-standing priority for ewo is the promotion of dialogue between experts from the fields of art, design and technology with regular ewoTALKS and ewoLAB platforms that focus on creativity, aesthetics and innovation. Under the direction of Hannes Wohlgemuth, the focus is once again on the expansion of tailor-made design and advanced technology as well as aesthetic craftsmanship and intelligent innovations.

GO: The elegant GO in die-cast aluminium was designed by Swiss design specialist Jörg Boner.

BR21 and LB23: The street furniture with accent lighting was designed by the Norwegian designers Norway Says (now Anderssen & Voll, and Andreas Engesvik).

if: Designed by Hannes Wohlgemuth and Moritz Kessler, the elegant if bollard is ideal for both public walkways and private gardens.

Event details

Design from the Alps. Tyrol/South Tyrol/Trentino 1920-2020
Duration: 11 October 2019 - 12 January 2020
Curators: Claudio Larcher, Massimo Martignoni, Ursula Schnitzer

The first comprehensive overview of the production and culture of modern design in a dynamic cross-border European region.

A production by Kunst Meran/Merano Arte with NABA, Nuova Accademia di Belle Arti and the Free University of Bozen-Bolzano.
UPCOMING FAIRS OCTOBER 2019
ewo will be exhibiting numerous new products and services at internationally renowned lighting and design events around the world in October, 2019.

inter airport europe
Munich
8-11 October
Stand: 1530 (Hall B5)

-

Hightlights: ewo will showcase a newly developed hardware and software measuring tool for lux values as well as a new high power floodlighting system and an a new concept. At our stand, you will see the enormous strides ewo technology has taken since becoming the first company to illuminate a full apron system entirely with LEDs.

-

PLDC
Rotterdam
23-26 October
Stand: E05 + E06 + E07

Hightlights: We will focus on ewo's versatility in Mastering the Shape of Light by demonstrating the simplexity of our A-Series and by launching a new optical system. Come visit - we'll show you light as you've never seen it before.

-

NZ AIRPORT CONFERENCE
Auckland
23 – 25 October
Stand: 4 (Energylight)
Highlights: Come and see our floodlight offering at New Zealand's premier event for the airport industry featured by our amazing partner Energylight.
Snøhetta exhibition: Shaping Interaction
ewo is proud to sponsor the internationally renowned architectural studio Snøhetta's 30th anniversary with a double exhibition this summer, which runs until 14 July at Architekturgalerie in Munich.

Snøhetta is showcasing three outstanding architectural projects, offering an intimate insight into their world-renowned prowess in the field of architecture.

Models, photos and sketches are featured, including ewo's project "Streuobstwiese" for Swarovski, as the exhibition continues to explore how Snøhetta works across international projects whilst honouring important considerations for local culture, history and geography.

The design and working processes for Snøhetta fuse traditional craftsmanship with the latest digital techniques, as reflected by materials on display at this already successful the exhibition.

Due to its outstanding popularity, the exhibition it has been prolonged by a number of weeks.

Anyone with an interest in the creative process in developing architectural concepts should go to see the exhibition before its end date of July 14!

Address:

Architekturgalerie München,
Kunstareal Türkenstraße 30,
80333 München
Ends 14. July
Awards and nominations, Lichtdesign Preis Awards 2019
ewo is a proud supplier of lighting for internationally acclaimed projects receiving prizes and nomination at the Lightdesign Preis awards 2019.

Luminaires were supplied by ewo for two winning submissions – one in the city of Riedlingen and one at the Merck Innovation Centre – in addition to a nomination for the fantastic 'Masterplan' project at ETH Zürich.

The winning projects were both very different. The project in the city of Riedlingen, championed by architects sbp (schlaich bergermann partner), utilised ewo's EL columns and FA bollards, to complement an externally supplied bridge illumination and create cohesive all-round aesthetic for a beautiful area in the city centre.

Luminaries were supplied by ewo for the outdoor areas of Lumen³ GbR's winning project at Merck Innovation Centre, which aimed to enhance the general wellbeing of staff with homogenous throughout the site, glare-free illumination.

In addition to winners, the award-nominated 'Masterplan' at ETH Zürich has regularly featured as a flagship ewo project and was a unique lighting design challenge. The concept for lighting designers Nachtaktiv Zürich was to waste as little light as possible, ensuring that a sense of security and safety was maintained through the lowest achievable level of light.

All three projects showcase the universe of possibilities with ewo's products, as well as what can be achieved in collaboration with such remarkable lighting designers and architects, receiving well-deserved recognition at this year's awards.
A new generation at lighting specialist ewo
Cortaccia-based lighting company ewo is proud to announce that Hannes Wohlgemuth has taken over the role of company Chief Executive effective from January 2019.

Hannes Wohlgemuth has been with ewo long before he has decided to join the company after his final degree in 2012, as his parents, Flora Emma Kröss and Ernst Wohlgemuth, founded ewo in 1996. Having effectively grown up with ewo, Hannes Wohlgemuth has gained experience within all departments, acquiring profound knowledge of the lightning sector.

In recent years, he has been focussing on expanding ewo's global influence as Head of Marketing and Sales.

Hannes Wohlgemuth's appointment as CEO will see the company continue this approach. This comes alongside ewo's constant commitment to the technological and engineering product innovations. In addition, he focuses on refining digital tools for lightning design and product specification, as well as for measurement and analysis of existing projects. Such a digital tool is ewo's online-configurator, which generates the most suitable product variation out of endless possibilities of ewo's product portfolio within seconds.

Commenting on his formalised position, Hannes Wohlgemuth said: "I am very proud to represent the company where I grew up as its CEO and I am confident that our creative endeavours and technical expertise will continue to add to our global portfolio of powerful lighting projects."

The company's founders Flora Emma Kröss and Ernst Wohlgemuth will remain at ewo in executive positions as COO and CTO respectively.

Flora Emma Kröss, commenting on the generation change said:

"We are very fortunate to know that our son will carry on the traditions we have established at ewo. The ushering in of the new generation, has been underway as part of a proactive plan spanning several years. I am convinced that now it's time to hand things over for this change and it brings me great joy to see the competence, diligence and enthusiasm Hannes brings to the company."
ewo's iRealm concept wins prestigious LUX Award
ewo is pleased to announce that iRealm, the company's concept for the future design of public spaces, won a prestigious LUX Award at London's Intercontinental O2, within the category of Property Technology: Connected Lighting Concept of the Year.

The award-winning iRealm concept involves four layers of lighting design for public spaces:

traditional lighting design focusing on lux level, form and function,
a connected layer, ensuring uninterrupted wifi internet connectivity through interior routed systems
a mesh layer, using Bluetooth low energy mesh to connect IoT nodes and sensors (potentially forming part of a smart city network)
a beacon layer enabling app-driven interaction between users on the network from light fittings to mobile devices, delivering limitless of applications like check-ins, timetables, menus, wayfinding, history of space, vouchers, targeted marketing and much more.

ewo's recognition as a conceptual pioneer in connected lighting, as well as its nomination in the category of Exterior Luminaire of the Year, cements the company's position as a global player in this immensely competitive sector.

Hannes Wohlgemuth, Head of Marketing & Sales at ewo, said:

"We are thrilled to have won an award, as part the wider recognition our work has received from two major category nominations at these prestigious awards.

"Our ongoing research into the field of Smart City technology puts us in a great position to expand and deliver on these fantastic concepts for future projects."

Lee Purvis, ewo UK and Ireland General Manager and concept leader for iRealm, said:

"It's great to see iRealm so well received as a concept within the sector, really showing the desire for connectivity in the spaces we use every day.
With this solid foundation, we hope to start putting a lot of the theory to the test and working to an exciting, efficient, better-connected future for all of our clients investing in public space lighting."

Visit the LUX Awards site. >>View full press release (PDF)
ewo to focus on modularity at Light + Building 2018 in Frankfurt
A wide range of requirements demands a wide range of solutions, and ewo the South Tyrol has found a clear answer: LED systems with a consistent focus on modularity. "Our modular system enables us to use lenses with all products," explains Hannes Wohlgemuth, Head of Marketing and Sales at ewo. "From our perspective, it makes no difference whether we are installing a spot or a street light distribution. We are even able to mix lens optics within a single product. This is music to the ears of lighting system engineers, as it opens up so many new possibilities."

The unveiling of the ewo A-Series during Light + Building will also represent the debut of the third generation of the modular LED tool kit. High-efficiency LED technology combined with a comprehensive assortment of newly calculated high-performance optics makes it possible to tap into a vast performance range, from large-scale lighting of outdoor areas to finely dosed, miniaturised architectural lighting. "We have rethought the LED tool kit entirely rather than just iterating. Massive miniaturisation and a high performance Industry 4.0 process that captures the entire spectrum form planning to installation open up completely new potential. Both on a design level as well as in terms of efficiency and footprint", explains founder and CTO of ewo, Ernst Wohlgemuth.

The centrepiece of the presentation in Frankfurt is ewoPhotometric Engine, an object designed by Clemens Weisshaar and Reed Kram that looks as though it has just beamed down from the future. "ewoPhotometricEngine is a large optomechanical device that is essentially a giant lens. A tangible human interface device able to simulate 1,799,766,996 configurations of ewo's new A-Series LED system: a new miniaturised high efficiency photonic technology that can light anything from a handrail to an airfield", clarifies Designer Clemens Weisshaar.

Further additions to the product portfolio include the light systems IN and ID in the outdoor lighting segment. These solutions for street and walkway lighting are suitable for flush-mounted installation without any visible screws, thereby ensuring full freedom for architects and lighting system engineers in designing outdoor areas without bringing the lights themselves into the foreground.

Finally, ewo will also be presenting its new magazine at Light + Building. Running to 150 pages, this not only covers the entire product range but also provides a textual and pictorial account of every aspect of ewo's concepts and activities in relation to light.

ewo at Light + Building, Frankfurt, 18-23 March 2018, hall 5.0, stand B30.

>> Full press release (PDF)
ewo – Successful Throughout the World with Highly-Efficient LED Technology
ewo is presenting itself at Light + Building 2016 in Frankfurt with a new, expanded product portfolio. It ranges from architectural lighting to the illumination of large spaces, and it distinguishes itself through increased efficiency and the extremely varied possibilities for configuration.

With its unique array of products, ewo creates top-quality, technologically advanced solutions for the most varied of contexts. Since every single project poses specific demands, we have developed a product system which we can adapt down to the last detail. We are thus the forerunner in the realization of the potential of the LED. The modular, highly-variable LED lighting unit is the fundamental building block for systems of any dimension.

Within the framework of the tradeshow appearance, we would like to present:
– R-System: newly developed for large-area illumination
– F-System: the tried and true F-System L for large areas has been supplemented by
two sizes, S + M, for roads, junction areas, traffic circles/roundabouts, and parking lots
– GO system luminaire: newly developed for residential streets and parks
– if bollard light: a new addition for situations close to buildings and green areas

ewo at Light + Building 2016, 13.–18.03.2016 Frankfurt am Main; Hall 5.0, Stand B30

>> Full press release (PDF)
A new date with the ewoTALKS
Art and business: challenges and opportunities for collaboration.

This is the last in this year's series of ewoTALKs, the events devoted to the relationship between art, design, business and technology conceived by Museion in collaboration with ewo. The ewoTALKS are an important element of an interdisciplinary collaboration between two key players in the local area - the cultural institution Museion and the technology company ewo, which has decided to reach out to the world of art and culture. The events were launched in 2015, International Year of Light, and are scheduled to continue into 2016. The next talk, on Thursday 19th November(8 p.m.) explores the opportunities for collaboration between the worlds of art and business. This is the subject up for discussion between Matthias Mühling, Director of the Lenbachhaus in Munich, Hannes Wohlgemuth (Marketing and Sales, ewo) and Mark Möllenbruck of the internationally renowned design studio Meiré und Meiré, Cologne. The discussion will be moderated by Susanne Barta (ewo) and recorded by RAI Südtirol.

According to the experts the future is all about open systems. Living and working in open systems calls for special skills: autonomy, profile, positioning, and the ability to act with flexibility and creativity, attentive to a constantly changing scenario. Thinking and acting innovatively are typical characteristics of the world of art. But how much does the business world need art, and, conversely, how much does the art world need business? How can artists interface with the world of business, and how can business people make a commitment to culture? How to implement fruitful processes of collaboration between all parties? These are the key issues that will be tackled in the debate.

19/11/15 8 p.m.
Museion Passage, Piazza Piero Siena 1, Bolzano

In German
Admission free

>> Full press release (PDF)
Linda Jasmin Mayer for ewoLAB
ewo presents in Copenhagen the new ewoLAB project "Lightways". ewoLAB initiates projects with artists, designers and architects and in doing so deals with the subject of light on various levels. Young South Tyrolean artist Linda Jasmin Mayer, who currently lives in Copenhagen, is addressing the topic of light control for ewoLAB.

Lightways
A lightbeam installation for Refshaleøen
Refshaleøen, Copenhagen
13.11.-31.12.2015

Light attracts, deflects and guides the perception. Our gaze and our footsteps are led by light. In the installation at Refshaleøen, in an alternative path of light, the unexpected is lit up. The light path is meant to call into question the usual way in which light acts as an automatic "guide" for us through the city.

Some elements of the former shipyard of Refshaleøen will be illuminated, and thus lifted out of darkness by the light for a few moments. The installation's various points of light illuminate objects from the past that still exist on the island, yet in some cases no longer have a function.

Opening 13.11.2015 5-8 p.m., Aperitif 6.30 p.m.
The Aperitif will be served in the Transformator Station of the former shipyard of Refshaleøen, Refshalevej 167, 1432 Copenhagen, Denmark.

>> Full press release (PDF)